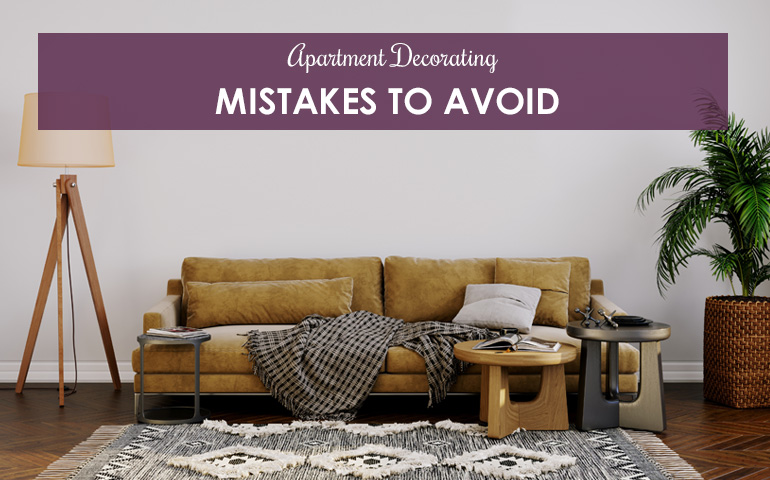 Apartment Decorating Mistakes To Avoid
Living in an apartment means making the most of the space you have! Fortunately, for apartment dwellers, there are a number of tips and tricks that will help maximize your square footage. However, there are also a number of common apartment decorating mistakes that plague small spaces. Below are some common apartment decorating mistakes – avoid these and you will living large!

Oversized Furniture

A lot of people who are decorating their apartments, especially those on a budget, often use whatever furniture is readily available without considering whether the pieces are right for the space. Using furniture that is too big will make your apartment feel smaller. So, if you have a cozy living room, opt for a loveseat and small chair rather than a large sectional couch. Oftentimes, choosing a few smaller pieces that fit well in the space will make the room seem larger and more comfortable.

Bad Lighting

Proper lighting can transform a room's atmosphere and even make it feel larger. Unfortunately, apartments tend to have outdated lighting fixtures and landlords don't always feel the need to update them. Luckily for you, lighting is an easy change you can make on your own for cheap! Dimmer lights are always a good idea for small apartments because you can change the brightness in each room. If you have a large window that supplies the majority of your daytime light, consider adding a few floor lamps to the corners of the room that the natural light doesn't quite hit.

Poor Decor Choices

Many people think that every piece of decor should match, but adding variety makes decorating fun and gives the room a more personal feel. Rooms look great with a selection of different textures, patterns, and colors. Try to choose styles that coordinate, but keep things loose – it will deepen the look of the room. If you're afraid of making any big changes, start out with some small ones -- like adding bold, colorful throw pillows onto your sofa or chair.

Clutter

Mail, beauty products, kitchen supplies...we all have things that clutter up our homes! Clutter isn't always a bad thing, but in a small apartment it can make your space feel messy. If your apartment lacks closets and shelving space, invest in some storage cubes, filing cabinets, shoe and clothes organizers, towel racks, ect. These things are relatively inexpensive and will help your space feel much more organized and put your mind at ease!

Photobombs

Framed photographs are a great way to add personality to your walls, but too many photos may cause your apartment to look tacky instead of classy. Start with the frames... find ones that coordinate well with each other and with your decor. Then, choose your favorite photos and arrange them in a way that best suits your room. Keep it minimalistic!

Dark Paint = Dark Dwelling

Drop that paint roller! Before you start changing up your wall's hue, keep in mind that dark colors tend to make spaces feel smaller. If you have a small room, try to stick to bright or light hues. For those who have their heart set on a dark color, try painting only one wall with it and the other walls with a light color. Dark accent walls are a trendy way to give your space a unique, dimensional look. Always check in with your landlord before you start painting!

Listening Too Much to Others

Keep in mind that everyone has their own opinions on apartment living, but you are the one who has to live in this space. So, when your mother comes over and insists that your chair should face the window or your neighbor nonchalantly suggests that your sound system should be in a different room, do what will make you happy! After all, it is your home.