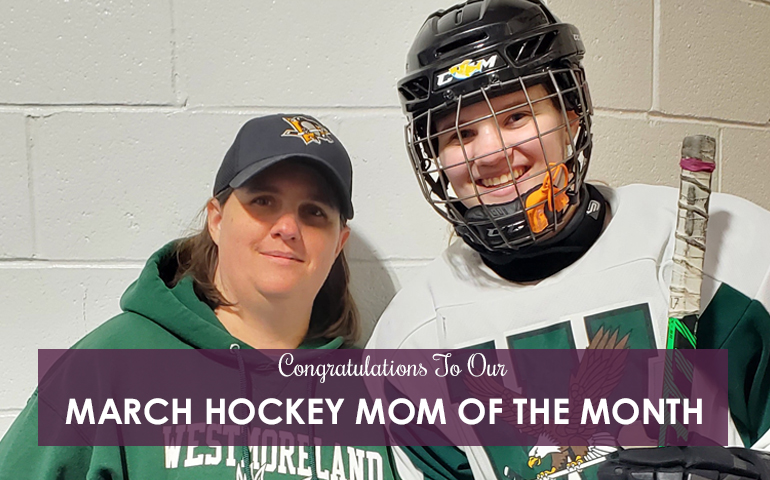 Congratulations To Our March Hockey Mom of The Month
Congratulations to our Berkshire Hathaway HomeServices Stouffer's March Hockey Mom Of The Month winner, Mary LeBlanc from Latrobe, PA. Mary was nominated by her fellow hockey mom's for being "the Heart of Westmoreland Hockey!"
Mary has been volunteering with the Westmoreland Eagles for a number of years. In 2011, she served as the business manager for her oldest son, Ryan's Little Penguins team. She has since then held other positions including an active board member for 7 years and president of the association for 2 years. Currently, Mary has been serving as the vice president, manager coordinator and one of the association's PAHL representatives.
In addition, Mary also assists in fundraising for the association. She is the director for the 51st Laurel Tournament which has visiting teams from as far as Syracuse and Virginia. Mary is responsible for organizing the tournament schedule, referees and scorekeepers for the entire tournament.
Mary is the ultimate hockey mom and her dedication is unmatched! She stays busy with her 3 children Ryan (16), Ashlynn (14), Cameron (10) and their hockey teams. When time permits, she volunteers at Latrobe Elementary when called upon.
It's easy to see how Mary LeBlanc has earned her own place in Westmoreland Hockey history!
Congratulations again to our Berkshire Hathaway HomeServices Stouffer Realty March Hockey Mom Of The Month, Mary Leblanc. Mary will be recognized as the winner at the Pittsburgh Penguins game at PPG Paints Arena on March 27th.
It's leaders like Mary that make our community a better place to live and for this we say, THANK YOU!