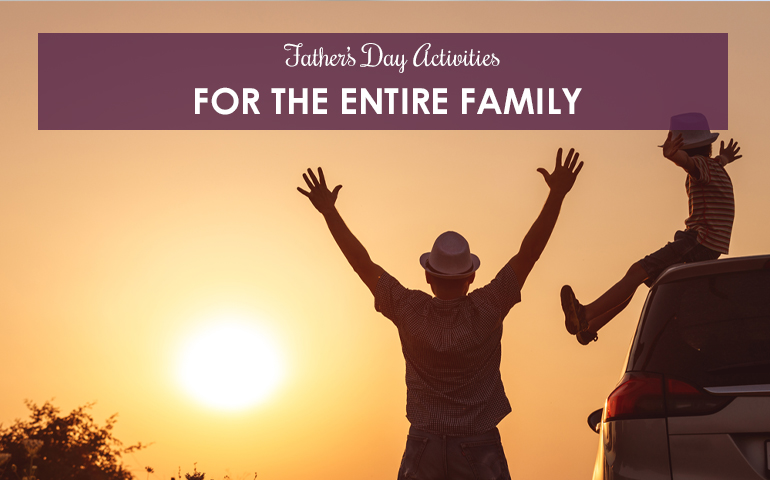 Father's Day Activities for the Entire Family
The best gift is quality time! Father's Day is this Sunday, June 20th, so it's time to brainstorm activities you can do with your dad. Lucky for you, we have a list of ideas he may love. Regardless of what activity you end up doing, he will love that you are doing it together!
Plan a Picnic
Pack up some homemade sandwiches, desserts and a big fruit salad and head to a local park with your dad. He'll really notice the thought you put into it. You could add mimosas, a game of basketball or frisbee, or even some music.
Take a Fishing Trip
Whether he's a pro fisher or just wants to learn something new, your dad will love to spend some time out on the water with you. If you do not have equipment, there are plenty of places that offer rentals to get you all squared away. Remember to have fun and don't forget snacks!
Host a Family Trivia Night
Designate yourself as the host and divide the rest of your family into two teams. Print out some fun trivia questions or come up with your own. Have the teams take turns answering questions to earn points. Dad will be so happy to see the family having fun!
Watch Old Family Videos
Especially on his special day, it is fun for dads to look back and see how much you've grown. Devote some time to watch old videos, laugh about how times have changed and thank him for helping you become who you are.
Learn a Skill Together
In this day and age, we have access to learning just about anything. Come up with a skill that would be fun to learn together- maybe pastry making, chess, flying a kite, yoga, ect. Pull together some videos or books to get you started on your new hobby!
Visit an Arcade
Get your game on at any local spot that features arcade games. Feel free to get competitive and really have fun with it. You may even want to look for an arcade with vintage games- the classics never get old. To raise the stakes, you can even include a prize for the winner!
Regardless of what you end up choosing, your dad will love spending quality time with you on his special day! Be sure to photograph all the fun that way you'll be able to look back at the memories you shared together.
Berkshire Hathaway HomeServices Stouffer Realty wishes you all a happy and healthy Father's Day!