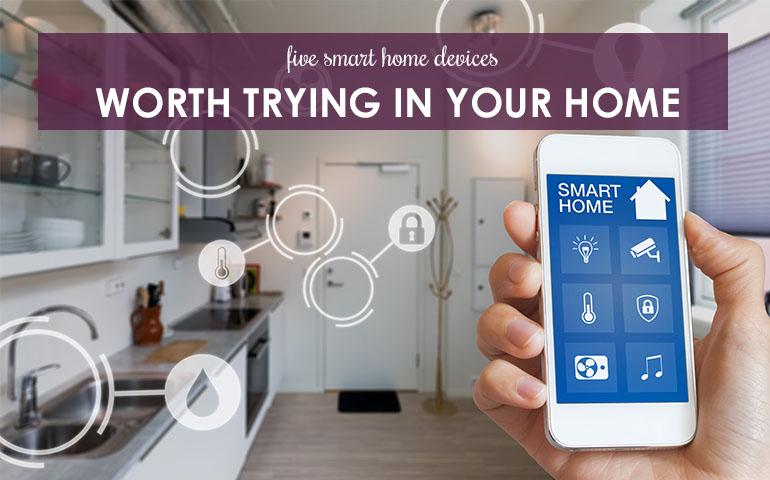 Five Smart Home Devices Worth Trying in Your Home
A lot of us would probably agree that technology makes things a little easier for us sometimes. When it comes to your home, this also can be true. Now, we know that some smart devices for your home may be a little pricey, but there are some that are quite worth the investment.
1. LED light bulbs
LED lights aren't exactly smart technology. But, if you're having second thoughts about investing in smart technology for your home, they are a great first step. Compared to traditional incandescent bulbs, LEDs not only look better, but they'll also save you money in the long run. They may cost a few more dollars than traditional light bulbs, but you'll see instant energy savings each month once you make the switch in your home. LEDs also require less maintenance and last longer than traditional bulbs. Ease your way into smart home technology by converting your home lighting to LEDs.

2. Smart Thermostats
At this point, if you don't have a programmable thermostat, you may be a little behind the times. But, a smart thermostat takes the technology one step further to regulate your home's temperature. Smart thermostats are able to learn when you're home, away or asleep. They can adjust your home's temperature based on your behaviors and needs. You'll use less energy because your heating, ventilation, and air conditioning system will run less when you're not around—but your home temperature will remain comfortable when you are. Can't ever remember to program your thermostat? A smart thermostat can do it for you. It can even be controlled through your smartphone when you are away!

3. Smart Home Security Systems
What if you could answer your front door when you're not even home? With a smart home security system, you can! With this type of smart technology, you cannot only see who is knocking on your door when you're not around, but you can communicate with them. You can monitor your home security from the office or while you're on vacation, simply by installing an accompanying app on your smartphone. Expecting a package or a neighbor to drop something off at your home? Yep, your smart home security system will help you make sure you never miss a visit!

4. Smart Garage Door Openers
A smart home security system will allow you to communicate with someone who is at your front door whenever you're away, but a smart garage door opener will allow you to let them in! By communicating with an app on your smartphone, you can open or close your garage door from virtually anywhere. With this smart technology, you'll never have to worry about whether or not you remembered to close the garage door as you rushed out for work in the morning. You can do it from your phone!

5. Voice Control Platforms
Now, we'd love to admit that we have all the right answers all of the time. But, doesn't everyone need a little help now and then? With voice control platforms like the Amazon Echo or the Apple HomePod, you can get a little help from Alexa or Siri. Not only can they relay things like your favorite recipes or your favorite songs, but they can even provide a little bit of trivia or DIY help for the whole family. Make sure you get it right every time by talking to your smart device.

Remember that feeling you got the first time you found an app or feature on your smartphone that made your day just a little bit easier? These smart technology devices can give you that same feeling around your home – and they may even help you save some money along the way!