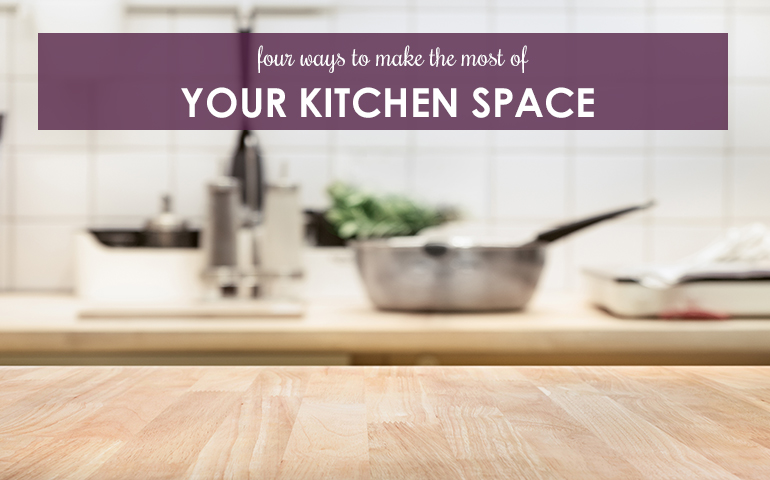 Four Ways To Make The Most of Your Kitchen Space
Today, the kitchen is not just for preparing food and storing your dishes. For most families, the kitchen has become the heart of the home and the center for entertainment. With the holidays fast approaching it's time to declutter your kitchen and make the most out of your kitchen space! Check out these five hacks that will have your kitchen in tip-top shape by Turkey Day.
Maximize Counter Top Space
Freeing up some of your counter space will not only help with efficiency in your kitchen, but it could even make it appear bigger! It's a good idea to start by organizing your kitchen and getting rid of things you don't use anymore. If you still have sippy cups or plastic plates from when your kids were little, it's safe to get rid of those to free up some space! Once you get everything cleared out, try these organization hacks:
Roll out cutting board: To free up some countertop space install a cutting board to a drawer that doesn't get much use. This will allow for easy access when you need to chop something and can easily be hidden to maximize space and efficiency!

Open concept shelving: Open concept shelving can be great for those things you still want on display, but don't have the space for.

Pantry organization: Organizing your pantry is a great way to free up kitchen space. You might even find space for things like your cleaning supplies or extra pots and pans. This also helps you to realize what you already have so you don't have to purchase more for your kitchen!

Under-cabinet knife rack: This is the perfect thing to install for those who are looking for more countertop space. An under-cabinet knife rack will take up a lot less room than a traditional knife block and will create a more minimalistic feel!
Add in an Island
If your kitchen is lacking the traditional granite island, you don't have to worry! There are tons of options that you can add to your kitchen space that will allow you to have more room for chopping veggies for soup and sipping on drinks with your house guests.
You can find a really great rolling cart, like this one. Or even get creative and bring some of your garage storage into the kitchen! If you have an old Craftsman, put it in the kitchen and add a wood top. This will bring a vintage feel to your kitchen and even give you more space for things like cutting boards and plates!
Switch Up Your Sink
This is a larger project, but changing your sink can give you more room to work and add a little more flair to your kitchen. If you have a traditional split sink in your kitchen, try changing it out to a deep, farmhouse-style sink. This will free up some space, allow you to put more dishes in the skink, and add more character to your home!
Reconsider Your Seating
Everyone loves a formal dining room and while they are useful for big holidays such as Thanksgiving and Christmas, they are not always practical for everyday use. If you are a person who loves to entertain but don't see yourself using a formal dining room, it's time to reconsider your seating.
If you have an island, try adding some bar stools for additional seating. This can be your space for weeknight dinners and entertainment. You could also purchase a small high top table to create the same effect.
Switching up even one or two things in your kitchen can help with space and the flow of your kitchen. There are so many great options out there for organization that will help you create the perfect dining and entertainment space for your guests! Once you get your kitchen ready it's time to start making memories with your friends and family in your "new" space!