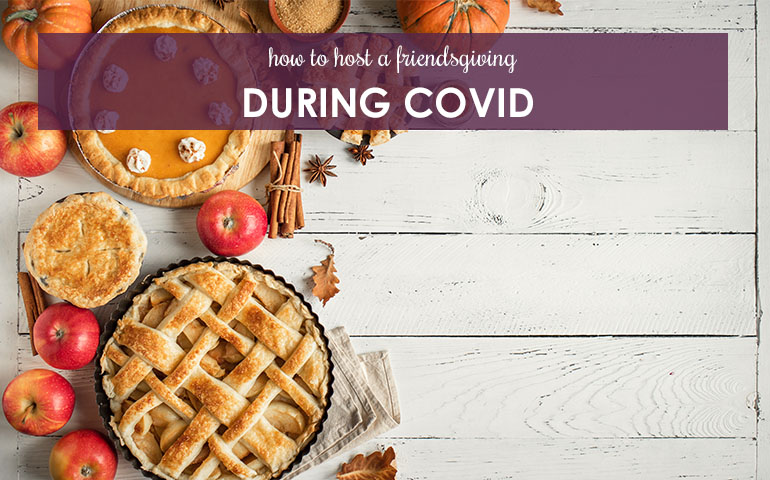 How to Host a Friendsgiving During COVID
There's nothing better than getting together with your friend group and enjoying good drinks and your favorite Thanksgiving foods! This year might look a little different, but there are still ways you can safely host a Friendsgiving while still being COVID cautious.
Get a Head Count
One of the first steps to preparing an awesome Friendsgiving is to put together your guest list. You will need to figure out how many people you are extending an invitation to. The CDC is recommending no more than six people if you are having your gathering indoors. It could also be a good idea to have everyone tested for COVID before getting together for the holidays. Once you get a head-count, you can start preparing your grocery list. You will want to take into account how many people will be attending your dinner and then prepare how much food you need to buy.
Space Out
This year at Thanksgiving it is important to space out. If you are able to, you might want to consider hosting your Friendsgiving outside and have a bonfire! If you are not able to host your guests outside, set your table to have every other seat empty. This will ensure social distancing and still let you enjoy quality time with your friends!
Use Individual Servings
Usually, Friendsgiving means having a potluck-style dinner. It will make your life a lot easier in the kitchen and your party fun! In your invites, tell everybody to bring one already prepared dish and one drink. Traditionally, the host will be responsible for cooking the Turkey so there is no mess when traveling, then the guests will bring the sides. This year, try asking your guests to bring individual servings instead of family-style meals. There are a lot of great recipes that can limit the amount of contact with other people while eating. Check out these stuffing balls for something different!
Take it Virtual
Like everything else in 2020, going virtual is a great option! If you don't feel comfortable getting together with your friends in person, have a Friendsgiving Zoom call! You could all make your favorite Thanksgiving treats and play virtual games to celebrate the holiday!
Enjoy
The most important part of hosting your Friendsgiving is to enjoy it! Make sure that you spend your day having fun with your friends. After you finish dinner, you could build a bonfire or play fun Thanksgiving games to keep the party going!
Even though things this year might look a little different, hosting your first Friendsgiving Dinner will be a fun addition to your holiday traditions! As long as your table is full of friends and your friends are full of food, you can consider your Friendsgiving a success!