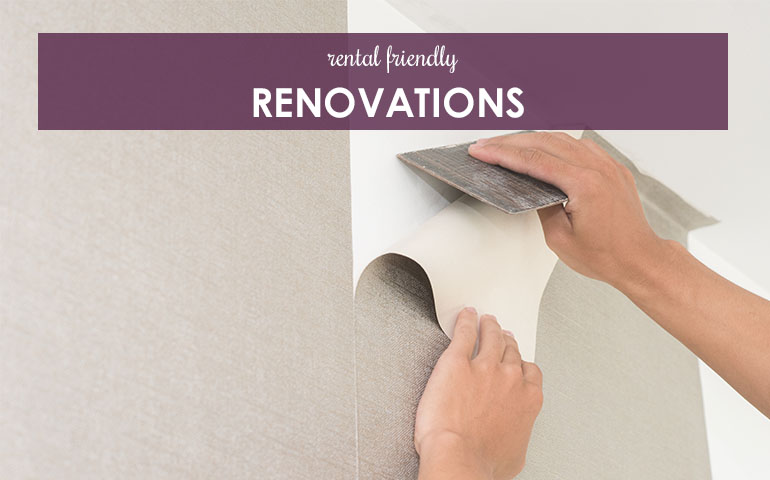 Rental Friendly Renovations
Living in a rental comes with a lot of perks like maintenance-free living, but you might feel like your options are limited when it comes to decorating your new space. Even though you might not be able to paint your walls or redo a kitchen, there are still plenty of ways to spruce up your apartment and make it your own.
Wallpaper
For some people, the thought of being surrounded by four off-white walls is simply unbearable. And for others, it's just plain boring. Removable wallpaper is becoming more popular and is a great way to brighten up your white apartment walls. Wayfair has some really great options that are easy to apply and take off when your lease ends! Just be sure to measure out the stick on sheet and match it to your desired area before applying!
Just like wallpaper, there are really great options for peel-and-stick backsplashes that will brighten up your kitchen and make your space more customizable. Although it can be a little pricier than wallpaper, peel-and-stick paper can be affordable when used in a small area like a backsplash. As long as your walls have a smooth finish, it's an easy and cost-effective way to get the look of tile without jeopardizing your security deposit.
Blinds
Instead of spending a ton of money on custom blinds for your rental, make your own for a fraction of the price. Measure the width and height of your windows, and invest in a few yards of budget fabric to fit. Then, all you need are a few tension rods per window and iron-on hem tape.
If you can't put holes in your walls, don't worry: Command hooks are the perfect solution! Simply hold each hook in place for about a minute to help it adhere. Once in place, the hooks should be strong enough to hold the weight of a lightweight curtain rod.
Light Fixtures
Switching out your light fixtures is one of the easiest changes you can actually get away with in a rental. You will want to make sure that you keep the original fixture somewhere safe for when you move out because you'll have to put it back before the next person moves in. This is a great way to change the look of your room and even get better air circulation if you are installing a fan.
Add in Mirrors
If your bathroom's medicine cabinet is not built into the wall, replacing it with something more your style can make a real impact. Replacing your mirror is as easy as unscrewing it, storing it for moving day, and then hanging something prettier.
You can also add in a large standing mirror to your bedroom or living room. This is practical because it allows you to get ready, but will also reflect natural light and make your space look larger.
Making your space your own is important even if you are living in a rental! If your new apartment is not exactly how you want when you move in, you can still customize it with small and easy changes. You will want to make sure to check your rental agreement before making any changes, but these are all minor changes your landlord shouldn't mind!