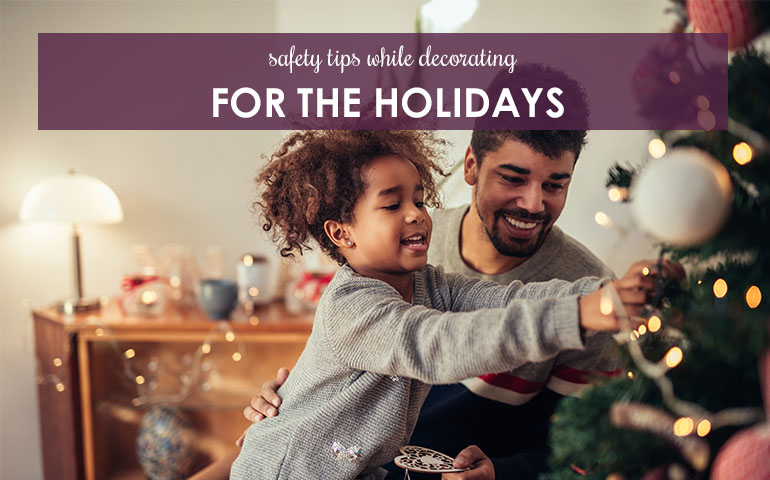 Safety Tips While Decorating for the Holidays
The holiday season is here! No matter if you celebrate Christmas, Hanukkah, Kwanzaa, or all three, this year especially it's time to show your holiday spirit! Decorating your home for the holidays is one of the simple joys that you can participate in as a whole family! While decorating this year, it is important to follow a few safety measures to ensure that you will have a happy and healthy holiday season!
Trees
Tis' the season of putting up a Christmas tree and decorating it with your favorite lights and ornaments you have collected throughout the years. While Christmas trees are beautiful to look at, you do need to ensure that they are put up safely! When bringing your tree into your home, it's a good idea to wire it into the wall to avoid it falling over on your children or pets.
Fire safety is also important when it comes to a Christmas tree. Most artificial trees are fireproof, but you will want to make sure that they are a good distance away from a fireplace, radiator or any heat source that might be a fire hazard. If you plan to cut down a live Christmas tree this year, make sure you get a fresh tree. It will stay green longer and be less of a fire hazard than a dry tree! To check for freshness remember:
A fresh tree is green.

Fresh needles are hard to pull from branches.

When bent between your fingers, fresh needles do not break.

The trunk butt of a fresh tree is sticky with resin.

When the trunk of a tree is bounced on the ground, a shower of falling needles shows that it is too dry.
You will also want to make sure your live tree is watered daily. Cut off about two inches of the trunk to expose fresh wood for better water absorption. Trim away branches as necessary to set the tree trunk in the base of a sturdy, water-holding stand with wide spread feet. Keep the stand filled with water while the tree is indoors
Lights
When hanging your lights inside or outside this season, you will want to check them for a few safety concerns. Before you hang your lights you will want to read the label to see if they are suitable for inside, outside, or both. Then check each set of lights, new or old, for broken or cracked sockets, frayed or bare wires, or loose connections. Discard damaged sets or repair them before using. It's also a good idea to turn off all lights on trees and other decorations when you go to bed or leave the house. If you do end up with a dry Christmas tree this year, you might want to reconsider putting lights on the tree and opting for more ornaments instead!
General Safety
When decorating the rest of your house or hosting guests, just remember to keep safety in mind. Here are a few more general guidelines to keep your family and home protected from an emergency!
Keep potentially poisonous holiday plant decorations, including mistletoe berries, Jerusalem cherry, and holly berry, away from children.

Remove all wrapping papers, bags, paper, ribbons, and bows from tree and fireplace areas after gifts are opened. These items can pose suffocation and choking hazards to a small child or can cause a fire if near a flame.

When lighting candles, remove flammable materials from the area and place the candles where they will not be knocked over. Never leave a burning candle unattended.

When hanging lights, make sure you have someone to help you and are using proper ladder protocol when you have to hang lights in hard to reach places
This year when you are decorating the tree, baking your famous Christmas cookies, and sitting by the fireplace, be sure to double-check for safety measures! Follow these few steps to ensure you have your best holiday season yet!