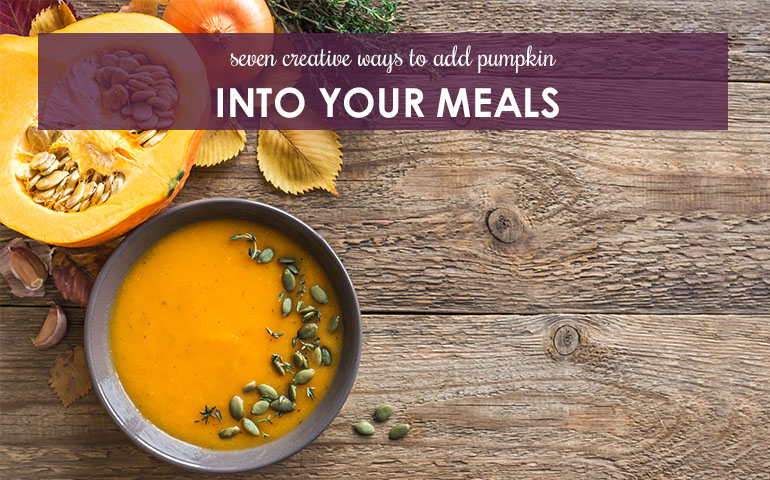 Seven Creative Ways to Add Pumpkin Into Your Meals
Everyone loves a seasonal pumpkin pie or a pumpkin-flavored coffee, but did you know that there are so many other ways to incorporate the season's favorite vegetable into your meal plans? Not only is pumpkin a versatile ingredient that can add the flavor of fall to just about any dish, but this winter veggie is also a great source of vitamin A. Whether you like sweet or savory, there are so many unique and creative ways to add pumpkin into your fall dishes!
Everyone has heard of a PSL, but have you ever heard of a pumpkin smoothie? This is the easiest way to sneak some added nutrition into a busy lifestyle and use up some leftover pumpkin! For this protein-filled smoothie, you'll need about 1/4 cup of pumpkin purée to get a full flavor, but if you're a bit short, don't sweat it. This will be a delicious and easy smoothie for breakfast or a snack.
If you love traditional cucumbers and hummus, consider mixing things up a bit by making one that's infused with fall's favorite gourd. You can simply add whatever leftover pumpkin you have in your possession to your favorite recipe, or you can give this savory pumpkin hummus recipe a try!
Transform the morning's most comforting breakfast dish into a delicious fall treat with the addition of pumpkin purée, maple syrup, cinnamon, and chopped pecans! You can even turn these into overnight oats for a quick, out the door breakfast before work.
Warm up on a chilly fall day with some delicious pumpkin soup. This is a quick and easy meal that is hearty and will give you comfort-food feels. You can use various winter squashes to make this soup but the two favorite types are sugar pumpkins and butternut squash. Add in a little heavy cream and some seasoning to create a delicious fall staple!
Switch up your traditional lasagna recipe and make something that your family will be craving more of. This pumpkin lasagna recipe would be perfect for a fall dinner, Halloween night, or even for a meatless Thanksgiving entree! Instead of using a traditional red sauce, you will use pumpkin puree and mushrooms in place. This is a savory and delicious you will be sure to love!
Pumpkin Cream Cheese Swirl Brownies
This sweet treat is a fall staple that will leave your mouth watering. These pumpkin brownies take less than an hour to make and are the perfect fall treat for Halloween or a Friendsgiving! You can use canned pumpkin puree or even make your own if you want to spice things up.
We may associate ice cream with summertime, but when it is flavored with pumpkin and autumn spices it is the perfect fall treat. This recipe combines typical homemade ice cream ingredients such as milk, egg yolks, sugar, and heavy cream with canned pumpkin puree. This can also be a fun weekend activity that the whole family can get involved in making!
This season, spice up your recipes by adding in a little seasonal taste with some pumpkin! This secret ingredient is not only delicious but has so many added health benefits. Be sure to share your finished recipes with us on social media!