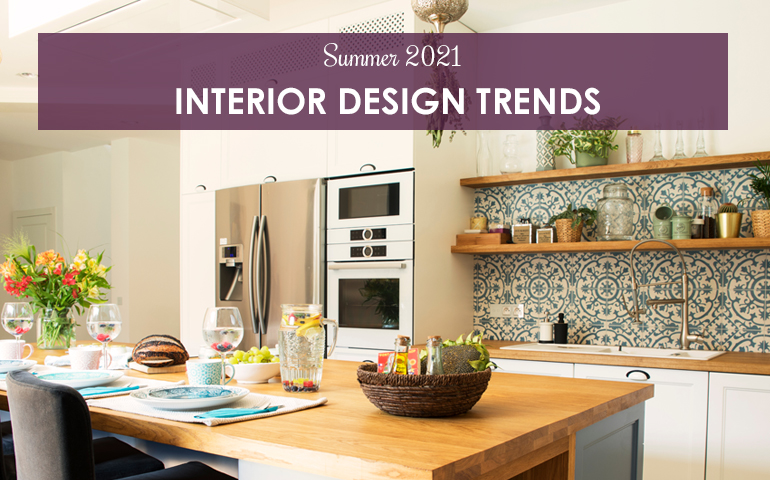 Summer 2021 Design Trends
Say hello to the new summer interior trends of 2021! Looking to add a little bit of spice to your home decor this season? Then look no further! Here are our top interior trends for spring/summer 2021 and how you can bring your space to life.
Cottagecore/ Grand Millennial
Cottagecore design is an extension of Granny Chic and has been all over Instagram for a while. It's all about a romantic interpretation of rural life and simpler times, using funky colours, patterns and details your Granny might have had. You may also hear this design called Grand Millennial as it modernizes interior styles used decades ago. Grab your grandmother's China and some floral wallpaper: This throwback aesthetic offers pure nostalgia.
Eco Friendly
In recent months, we have become very aware of how fragile our planet is, so anything we can do to use eco-friendly and sustainable products in our homes is welcome. One retro product that is growing in popularity is cork, which can be used on the floor and walls, on accessories, and can be sculpted and coloured – it's quite versatile. Not only will it look good for years to come, it has sound-proofing properties too. Vintage has also grown in popularity, with more people buying old rather than new, pieces with a history like an antique chair, artwork and colourful cushions with a 50's vibe.
Yellow & Gray
The Pantone colours of the year are Illuminating Yellow and Ultimate Grey. Pantone colours are industry standard colour codes that stand for a specific shade and every year they narrow it down to the very best. The yellow/grey color combination is practical and rock solid but at the same time warming and optimistic, the two shades together create a strong and positive vibe. Get ahead of the trend and start shopping for yellow and grey pieces today!

Flexible Spaces
With working from home looking like a permanent fixture for some of us, we all need to find ways to make our space more flexible. Living and working in one space can be difficult, and switching your table from desk to dining at the end of the day isn't ideal, so try to find a section of wall for a desk, no matter how small, so that it feels separate. Decorate the different areas with rugs, artwork, lighting and plants to make your space more comfortable.
Rattan Decor
Texture of the year definitely goes to woven rattan for its bohemian feel. Cane furniture, rattan mattresses, woven tapestries, baskets and planters (made of rattan or cane) are the best way to add some texture to your home. The good news is that they go very well with light-coloured wood and the Pantone color combination of the year.
Nature
Our love affair with plants is not going anywhere. Houseplants have kept us in touch with nature, they are known to bring calm and also purify the air. Go for either large plants to make a statement or a collection of smaller ones – and that 70's rattan vibe is still all important, and of course, sustainable. If you struggle keeping houseplants alive due to a busy schedule, opt for faux houseplants.