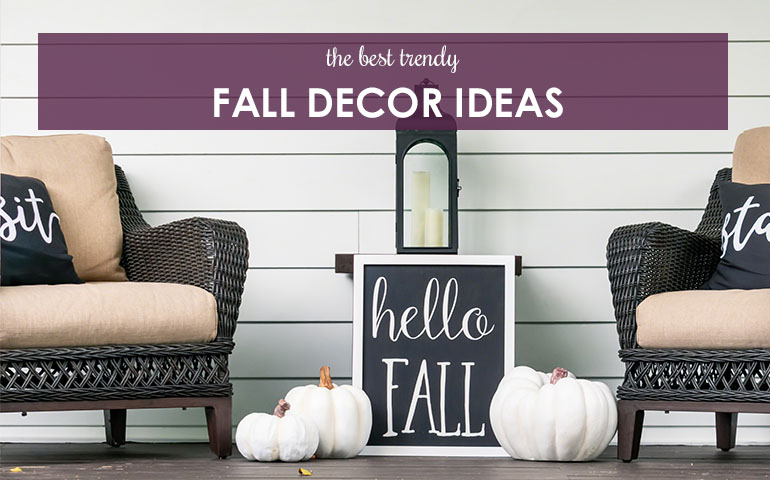 The Best Trendy Fall Decor Ideas
Now that fall has officially arrived, it is time to embrace the season and pull out your favorite autumn-inspired décor. Besides, we all know you've been grabbing a pumpkin spice latte whenever you could for the last few weeks anyway. The season's official start is a great time to get your home ready for fall with a little seasonal foliage.
1. Texturized Wreaths: When it comes to fall, you have a lot of opportunities to show your creativity on your front door. You don't have to DIY to have a to-die-for welcome to your home. Think of fall foliage when it comes to the wreath that adorns your front door. From dried wheat to burlap to brightly colored leaves, fall gives you plenty of options for decorating. Find a seasonal wreath at your favorite craft store or make your own!
2. Seasonal Doormats: Don't stop at the front door when adorning the outside of your home for fall. It is easy and relatively inexpensive to add a seasonal mat to your doorstep. Welcome family and friends with a fall-inspired mat!
3. Flannel Throw Blankets: Are we getting wrapped up in a theme here? Absolutely! Let the fall season flourish inside your home too. Adorn your beds, benches, and couches with flannel throws to show your support for the changing season. Plus, who doesn;t love having a cost blanket within arms reach!
4. Pine Cones: You can get these from your local craft store or a local walking trail. When you're talking about fall, a few pine cones are a must! Hang them or create a centerpiece to impress your family and friends this season. This will also be a centerpiece that can easily transition into winter decor!
5. Gorgeous Gourds: This time of year, there are few things better than capitalizing on nature's beauty. Invite the season into your home by featuring a few gourds in your décor. Placed together or apart, they're sure to make your home feel autumnly-awesome!
6. Festive Fall Flowers: They may require a bit more maintenance than those gourdeous gourds, but fall flowers, like mums, are a great way to add fresh, seasonal décor to your home. They're great indoors or outside and could even last through Thanksgiving.
7. More Fall Foliage: Don't stop with just gourds and flowers when it comes to fall foliage. Once you notice beautiful fall colors adorning the trees, get out there and gather some leaves. You can use them to make a wreath or simply fill a fall display you've already got in the works.
8. Chalkboard Art: Nothing says fall like back-to-school season, right? Bring a little scholastic style to your home by adding some chalkboard art. Find a favorite fall-inspired quote and scrawl it onto a framed chalkboard. You'll bring instant seasonality to your home.
9. Ravishing Reds: If you're feeling like putting in extra effort this fall, paint an accent wall with one of your favorite fall hues. This year (and in many others), deep red is emerging as an ideal design color for any fall décor.
10. Décor That Lasts: When you're decorating for fall, don't forget that the season lasts long after Halloween. It is fun to dress up as a ghost, witch or goblin, but keep the fall décor at your home classic. This way it will last for the entire fall season.
Once you get your home decorated for fall, sit back and enjoy a cup of apple cider by the fire! Don't forget to share pictures of your fall decor with us by tagging us on social media!