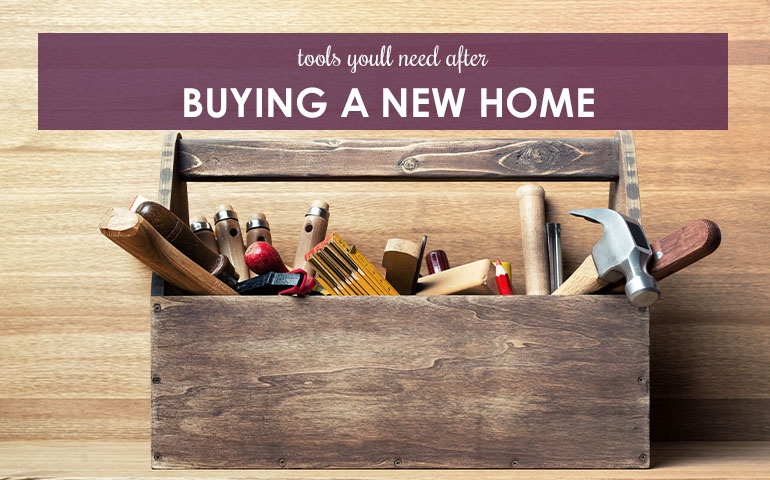 Tools You'll Need After Buying a Home
If you have recently moved or are a new homeowner, a tool kit is something that you will definitely need in your new space! A home tool kit usually starts with a small investment on the part of a new and inexperienced homeowner. Then, grows over time as new projects need to be completed and skill level improves. Here are a few ideas to help get you started on your own tool kit.
Painting Supplies
New colors on the walls can help you enjoy a new home and personalize your space. Painting can be done easily, even if a homeowner has little or no experience with DIY projects. All you need are the right tools. To get started on your first home painting project, you'll need the following:
Paint

Tarp

Painters Tape

Brushes and Rollers

Spackling

Painter's Tray

Ladder

Old Clothes
Screwdrivers are the ideal tool to tighten cabinet hardware, install light switches, and crack open the lids on metal paint cans. This 10-piece set includes all the common slotted and Phillips-head sizes, as well as stubby versions to get into tight spots.
If your electricity goes out unexpectedly or you need to focus on a project where the light is bad, like in an attic or under a sink, an LED flashlight is the way to go. Get a few in different sizes and leave them in various rooms. As prep for emergencies, make sure everyone in the house knows where the flashlights and the batteries are kept!
From hanging pictures to securing a loose patio railing, a hammer will probably be your go-to tool. Its a good idea to get a few hammers ranging in weight for different household projects!
Keeping your collection of drivers, screws, and bolts in an easy-to-haul toolbox keeps things organized and handy. The large-capacity plastic box has a single metal latch that closes securely. A removable tray is great for assorted fasteners.
Miscellaneous Tools
In addition to all the tools that we mentioned above, it's a good idea to stock up on any miscellaneous tools that you might need in a pinch. You'll never know when you need to use a wire cutter or sand a step on your deck! Here are some quick tools you might want to have on hand:
Pliers

Allen wrench

Needle-nose pliers

Bolt cutters

Wire cutters

Steel wool

Broom

Work gloves

Dust mask

Utility knife

Sandpaper
Now that you are starting to get settled into your home, a toolbox is always good to have on hand. From needing a screwdriver to change your light fixture to needing a hammer to hang up those family pictures, it's good to have all the tools you need handy!